Everyone will tell you what to wear for the Holidays this season but what's a girl to do when it doesn't go quite as planned? Check out my tips on keeping it all together for the Holidays…
1. Nothing is worse than feeling like you're falling out of your dress! Well, you've all heard of Fashion Tape but here's one made from a medical grade adhesive that is not only safe but will effectively get that dress put so you can stop worrying and start partying!
2. While you might think kicking off your shoes is a sign of a good time, in fact, it's quite tacky (no pun intended!) Keep the Cinderella Kit handy to solve any discomfort problems and keep you looking as elegant as you did when you walked in, all night!
3. While the Holidays usually present a whole host of problems, there are some things that can be easily fixed! From a fallen hem to a popped button this Fashion Emergency kit has got you covered. Or make your own by carrying a pocket sewing kit, some fashion tape, and safety pins. These three items are purse must-haves!
4. A proper foundation can help prevent a variety of wardrobe malfunctions. You already know the usual ones: Spanx, seamless underwear, and strapless bras but have you ventured into the adhesive bra zone? Sounds scary but this nifty item could end up being your breast friend (pun intended this time)!
5. Finally, just when it seems you've dodged all the bullets, there's still that ominous little strap to worry about. Yes, your bra strap. You thought you could get away with it because your dress isn't strapless, right? Wrong! Keep straps out of sight with one of these sweet little converters and be on your merry way!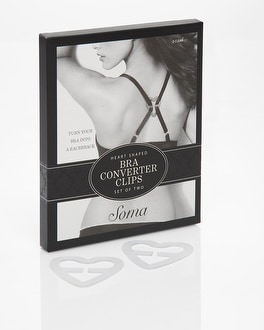 Hopefully these tips and tricks will keep you covered throughout all your holiday events these coming weeks. Have fun and Happy Holidays everyone!
Love,
Marcella